About
Welcome to Baker and Roberts
Myself (Jamie Baker) and Mark Roberts have a combined experience of over 50 years working in the butchery trade. Throughout those years we have perfected our craft and built a great knowledge of meats, cuts and practices.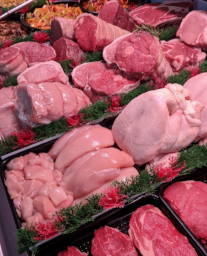 One aspect of Butchery close to our heart is customer service, we take great pride in ensuring every customer is delighted by the quality of the produce we supply, we also take great pride in offering a friendly, personal service backed up with knowledge, cooking tips and meal ideas. 
Having worked throughout the Chester area for many years we have built up a reputation as two of the areas top butchers, in January 2018 the time come to go it alone and we opened our first shop in Manley nr Frodsham.
The Butchery at Manor Farm
The farm shop in Manley has now been open for over a year, the response has been great and we cannot thank our customers enough for their support.
We are pleased to announce that our second shop in Penyffordd is now open! Based just beyond Broughton shopping park we offer a selection of freshly made pies and pastries in addition to our wide range of traditional and specialty meat products.

The Penyffordd Shop
Our shops are stocked with quality beef, lamb, pork and poultry all sourced from local farms. All our sausages, burgers and specialty products are handmade in the shop using the finest ingredients.
All meat we stock is reared to high welfare standards, matured by hanging on the bone for maximum taste and tenderness and prepared to a high standard within the stop.
This website is built on Shopify, one of the world's most popular ecommerce platforms. We chose Shopify for its speed and security, you can rest assured that all transactions are fully secure, we accept all major card types & apple pay.
Unlike most online stores this website was not built by a third party, we built, designed and maintain this website ourselves, this gives us complete control over the entire website and ensures the service we provide online is to the same high standard we provide in the shop.
The website was built with ease of use in mind, navigating our range and choosing your products is a breeze on all devices. Products are priced per serving in addition to by weight so if your not familiar with buying fresh meat you needn't worry about what weight to buy, just choose how many people your serving and leave the rest to us.
In the spring of 2018 we entered our first competition - The North Wales and Cheshire Awards for Meat Excellence, we're pleased to announce that we won 5 gold and 3 silver awards from our 8 entries. Look out around the site for our award winning products including our ever popular steak burgers and the delicious Caribbean pork sausage.
This followed with success at the 2018 UK Sausage Week competition, over 500 sausage makers entered the national competition judged by industry experts. We scooped the runner up prize for both the traditional and speciality categories, we'll be back in 2019 going for gold!